Meet the team
CODY NELSON- COMMUNITY MANAGER
Cody was born in Atlanta, GA and grew up in the Roswell area. He went to Blessed Trinity Catholic High School before attending The University of Alabama. Cody began his Multi-Family career with Wesley Apartment Homes over 7 years ago. He was originally hired as a Personal Leasing Consultant before moving on to Assistant Manager and Manager positions. He has been part of two property sales for Wesley Apartment Homes and has gained extensive knowledge in Property Management since 2013. Cody was recently engaged to his fiancé Haylee and they plan to get married next year at the beach. In his free time Cody enjoys traveling the world, working out, cooking, and being with his animals.
BIANCA HERNANDEZ | PERSONAL LEASING CONSULTANT
Bianca has been working at Wesley Place for four years and has been in the industry for eight years. She was born in Fairfield, California but has spent most of her life in Norcross, Georgia. What she loves most about her job is getting creative with social media ideas and touring the property with prospective resident. Bianca enjoys finding new music to listen to, shopping and drinking iced coffee.
RICHARD RIDLEY – CONCIERGE
Richard assists with mail sorting, package delivery, and all things customer service. He assists with maintenance emergencies. We are happy to have him part of our team.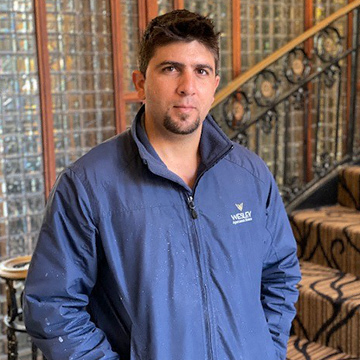 ALBERTO DIEGUEZ – MAINTENANCE TECHNICIAN
Alberto has a background in commercial construction, maintenance repairs, and services. Alberto's expertise is on plumbing and electrical issues. He is originally from Cuba and he enjoys spending time with his family and friends. He provides great customer service and is also EPA and CPO certified.
Testimonials
The whole staff is very kind, helpful, and professional. The dog community here and nearby (the Monroe) is also very good. No issues with bugs, maintenance requests were answered timely, secure premises w/ key fobs, and just an overall clean & pleasurable experience. Highly recommend

- Thomas
Honestly can't say enough good things about this apartment community. The staff is AMAZING and always looking out for the residence and any requests they may have. From the location (close to beltline and many restaurants and grocery stores) to the events they host quarterly this is an amazing safe place to live...and not to mention the price! You can't go wrong with choosing the Wesley Townsend as your next home.

- Benjamin James
This is a great apartment complex. Well maintained and I love the staff here. They go out of their way to make living here a great experience.

- Brett Kole
Awesome Place Beautiful People Love the walking trails nearby and definitely loved the secure and safe feeling I had as soon as arrived......

- Janice Cook